The next meeting of the Tahoe Nordic Search And Rescue Team will be this Monday, November 5th at 6:30PM at the Granlibakken Resort's Ski Hut. Come for the beer….stay for the wise cracks!
The Longest Winter
I recently read this book and can't recommend it enough. In addition to being a great recounting of history, it put the words, "suffer" and "miserable" in perspective for me. Sometimes the words courage and endurance are used rather freely, however, these men embodied these qualities throughout their entire ordeal.
From
Booklist
: "The author of
The Bedford Boys
limns another group portrait of a band of similar World War II soldiers, this time the intelligence and reconnaissance platoon of the 394th Infantry Regiment, 99th Infantry Division. That green division came squarely in the path of the Wehrmacht during the Battle of the Bulge, and that platoon was one of many small units that fought tenaciously to the bitter end. The whole platoon was captured, but only after they had held a crucial road junction long enough to seriously delay Joachim Pieper's SS battle group. More miraculously, all those captured, even the grievously wounded, survived the war; indeed, most were alive to receive decorations in 1980. The narrative moves from the GIs' combat experience at the Bulge to their POW experience until the closing days of the war, and Kershaw handles both combat and internment skillfully and respectfully."
Hermit Valley Search
The team was called out on Monday, October 22nd for a mutual aid search in the Bear Valley area (Alpine County). A 40 year old male and his 14 year old nephew became separated from their hunting party on Sunday afternoon. The last person to see them became lost themselves for awhile. Once re-oriented they flagged down a motorist who notified authorities. It's worth noting that the 40 year old male got lost in 2009 and wandered the woods for three days before being located by authorities.
A team of three TNSAR searchers and a Placer County Sheriff made the arduous journey from Tahoe City to the command post at Hermit Valley. While it had been snowing for awhile the searchers decided that not enough had fallen to warrant using skis. The team moved quickly and efficiently throughout the night and cleared their assigned areas. They also helped another team with the evacuation of one of their searchers who had become incapacitated due to altitude and conditioning issues. The team got out of the field at 5AM on Tuesday and made the long drive back to Tahoe City.
At 3PM that day the uncle was found near Stevenot Camp. He was suffering from severe hypothermia and was transported to Sutter Amador Hospital for treatment. The nephew was found deceased at 6PM.
Desolation Search

A young man in his 20s set off from Eagle Falls Trailhead on Friday, Oct. 19th planning to hike to the Velma Lakes then onto Dick's Lake and back, exiting on Tuesday, Oct. 23rd. He called his mother and described his trip itinerary. He told her he would call her on Tuesday when he got out. He did not check the weather forecast before his departure. When his mom didn't receive a phone call on Tuesday, she contacted authorities and a search was initiated.
The first teams hit the snow on Wednesday morning. TNSAR had a team of four leave from Bayview Trailhead with the assignments of searching Granite Lake and Dick's Lake. After reaching Dick's Lake in stormy conditions they moved to Fontanillis and Middle Velma Lakes where they found a bag of trash they thought might be the MP's. One team of two headed downhill towards Camper Flat while they other team of two began their exit. Both teams reached the Bayview Trailhead at about 11PM having coverd almost 15 miles.
On Thursday morning a team of six (five skiers, one snowshoer) responded to the incident command post at the Lake Tahoe Golf Course. In sharp contrast to conditions faced by the team the night before, this team received steaming hot breakfast burritos, blue skies, not a whisper of wind and promise of a helicopter ride. Complimentary reiki massage may or may not have been available. After a leisurely breakfast they received the assignment of clearing the 4Q's Lakes drainage. The team of skiers moved to the airport where they boarded an Army National Guard Blackhawk and were flown to Camper Flat where they began their search. A team of three moved south up the Rubicon River while a team of two moved downstream, crossed the river and then headed up the 4Q's Lake drainage. At around 1PM, it was announced on the radio that the MP had been found at Lower Velma Lake. The team of five reconvened at Camper Flat and were flown out by the Blackhawk. The team returned to IC for the debrief where hopes of all you can eat sushi did not bear out.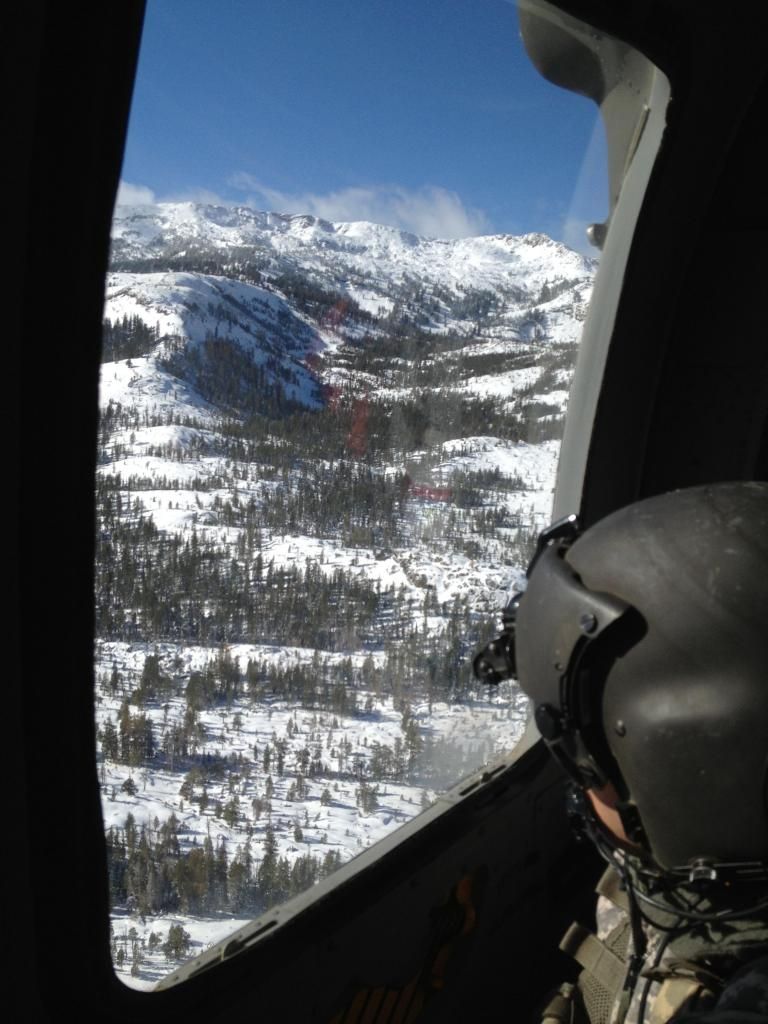 Deep Discount Mountain Gear
We're invited to Tahoe Mountain Sports on Tuesday, December 4th from 5:30-8PM to take advantage of pro form pricing and deep discounts on the newest 12-13 winter gear including skis, bindings, boots, avalanche beacons, probes, shovels, clothing and saucer sleds. Highlights include an Ortovox Pro Night Special, pro form pricing on the entire Dynafit line and pro form pricing on all in stock Black Diamond, Salomon and K2 gear.
The Paces Are Getting After It
Joe just returned from Maui where he competed in the XTerra Triathalon World Championship. The course consisted of a 1 mile swim, an 18.89 mile mountain bike and 5.9 mile run. Joe completed the difficult course in 3:56:41, good enough for 11th in the 55-59 age division.
A friend of mine recently ran the Dick Collins 50 Mile Firetrails Race. I was curious to see how he did so I pulled up the results on the Inter Web. As I was scrolling through the results, I saw a familiar name: Colleen Conners-Pace. Coleen finished the race in 10:09:29 which was good enough to earn her 20th place among the women. Seventeen miles is the longest run I've ever completed and I was completely worked at the end. The idea of doing this two more times seems absolutely brutal.
Strong work Jim and Colleen!
New General Manager at Royal Gorge
TNSAR's own JoJo Toeppner has been hired by Sugar Bowl to run Royal Gorge, the largest cross country ski resort in the U.S.
From the
Sierra Sun
:
"Toeppner said she will focus on impeccable cross-county ski trail grooming, excellent instruction and attentive customer service at Royal Gorge.
'I am assembling a team that will bring Royal Gorge back to what it once was — one of North America's most iconic cross-country ski areas,' said Toeppner. 'We will work hard to deliver a cross-country ski experience that everyone can enjoy.'
Toeppner will have two additional Bison grooming machines at her disposal this season, as Sugar Bowl Resort has invested more than $500,000 into upgrades at the cross-country ski resort, including changes to the resort's lodge, Summit Station.
Toeppner, who learned to cross-country ski at Royal Gorge, said the resort's potential lies in its natural features — its high elevation, expansive terrain, and easy access off of Interstate 80. She is currently assembling a team of Royal Gorge instructors, groomers and customer service personnel who will operate the resort under the leadership of Sugar Bowl Resort."